Our Sporting Goods Displays Create an Interactive Experience
We are experts at showcasing your sporting goods items, so you can optimize your brand or in-store marketing. Our sporting goods displays are versatile and modern, so when you work with our team, you'll have a product that's unique to your business. We can produce retail displays out of a variety of materials, including:
Corrugated.
Metal and Wire.
Plastic.
Wood.
In addition to our customized, award-winning designs, we complete all stages of production in-house to ensure every display meets our high standards of quality. From the design process and engineering to manufacturing, we are a one-stop shop for your retail sporting goods displays.
Let's Get Started
WHAT MAKES US DIFFERENT?
GREAT INSIGHTS – Consultative, understanding retail and the shopper
GREAT DESIGN – Creative, award-winning design
GREAT EXECUTION – Responsive, reliable experts in printing, fabrication, and assembly Sporting Goods Retail Display Examples
Displays for Sporting Goods
Our team of designers is experienced in the world of sporting goods and marketing, so you can rely on them for helpful insights. They will work with you to bring your sporting products to life so you can hit it out of the park with your branding and in-store marketing and provide your customers with an interactive experience.
To accommodate every sporting good industry, we create streamlined designs for products in multiple industries, such as:
Fishing.
Football.
Baseball.
Golfing.
Tailgating.
Soccer.
Bicycling.
Get a Custom Display for Your Sporting Goods Store
Shopper Insights
webinars: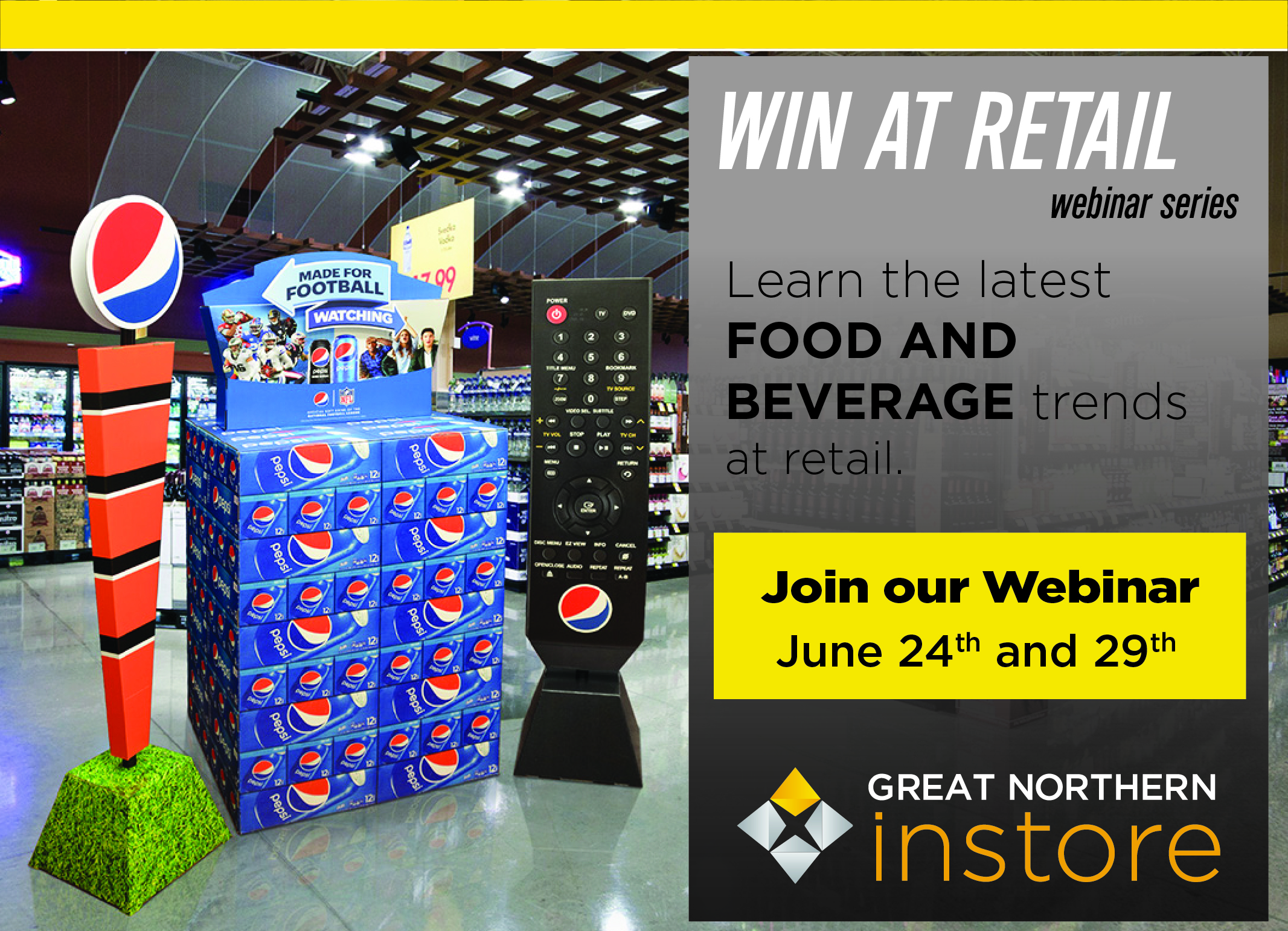 Beverage Industry Insights
Great Northern Instore highlighted the retail trends in the beverage industry in this webinar.
View this Webinar
SUCCESS STORIES:
Gatorade®: Integrated Pallet Display
Created an integrated pallet display that commands shopper attention at Dick's Sporting Goods
Showcased a portfolio of Gatorade products, driving basket size
Created the carrying capacity to get products out the backroom onto the selling floor
Read More
How Our Sporting Designs Will Benefit Your Brand
Incorporating our innovative sporting goods display at retail will bring more than an enhanced shopping experience. You'll notice your customers browsing your products for longer periods with more excitement due to your new displays.
Because we create our products with high-quality materials and standards, you can expect improvement in three main areas:



We create our designs with your customers in mind, so we ensure every feature of your brand's custom display will excite your customers and showcase your sporting goods products.
This attention to detail also targets impulse buyers and attracts new customers, making our sporting goods displays a powerful marketing tool. Our designs can also optimize your product's layout, so customers can navigate your products section effortlessly.
Our Unique In-House Production Process
When you team up with us for an effective sporting goods display, we strive to exceed all of your expectations. To create innovative and durable displays every time, we have a complete in-house production process, allowing us to:
Supervise every step of production.
Ensure every detail is correct.
Guarantee each stage is completed efficiently.
Communicate effortlessly with our own manufacturers.
Because we don't rely on any outside suppliers or manufacturers, you will receive your product as quickly as possible without sacrificing quality. We will also manage your completed display with our distribution capabilities, so you can integrate it into your brand's in-store marketing strategy and experience the benefits it will bring your company.
other available display types:
Great Northern Instore offers an expansive list of display types. Each type offers a unique benefit to brands who want to draw customers to their products. Custom retail floor displays showcase hot-off-the-press items, while retail signage directs customers to where your products are merchandised. Other types like end caps can be strategically designed to highlight a seasonal product and enhance your brand awareness.
Contact Us
"Great Northern is adept at interpreting shopper insights so we get better metrics for our in-store promotions."
- Great Northern Instore customer, Toy Manufacturer