Grocery Store Displays
Attracting customers and generating sales is a challenge in today's highly competitive grocery store environment. Great Northern Instore can help you gain an edge with a diverse range of temporary and permanent retail displays. We can create custom signage and interactive floor displays that make your products stand out and increase their appeal to shoppers.
Let's Get Started
What Makes Us Different?
Great Insights – Consultative, understanding retail and the shopper
Great Design – Creative, award-winning design
Great Execution – Responsive, reliable experts in printing, fabrication, and assembly Explore Examples of Our Grocery Retail Displays
The best grocery store display designs have three things in common:
Insight into the needs and preferences of retailers and consumers
A focus on creativity that attracts shoppers
Precise execution in printing, fabrication, and assembly to ensure the highest quality and durability
As an award-winning retail display company, Great Northern Instore delivers each of these, along with superior service.
Shopper Insights
webinars: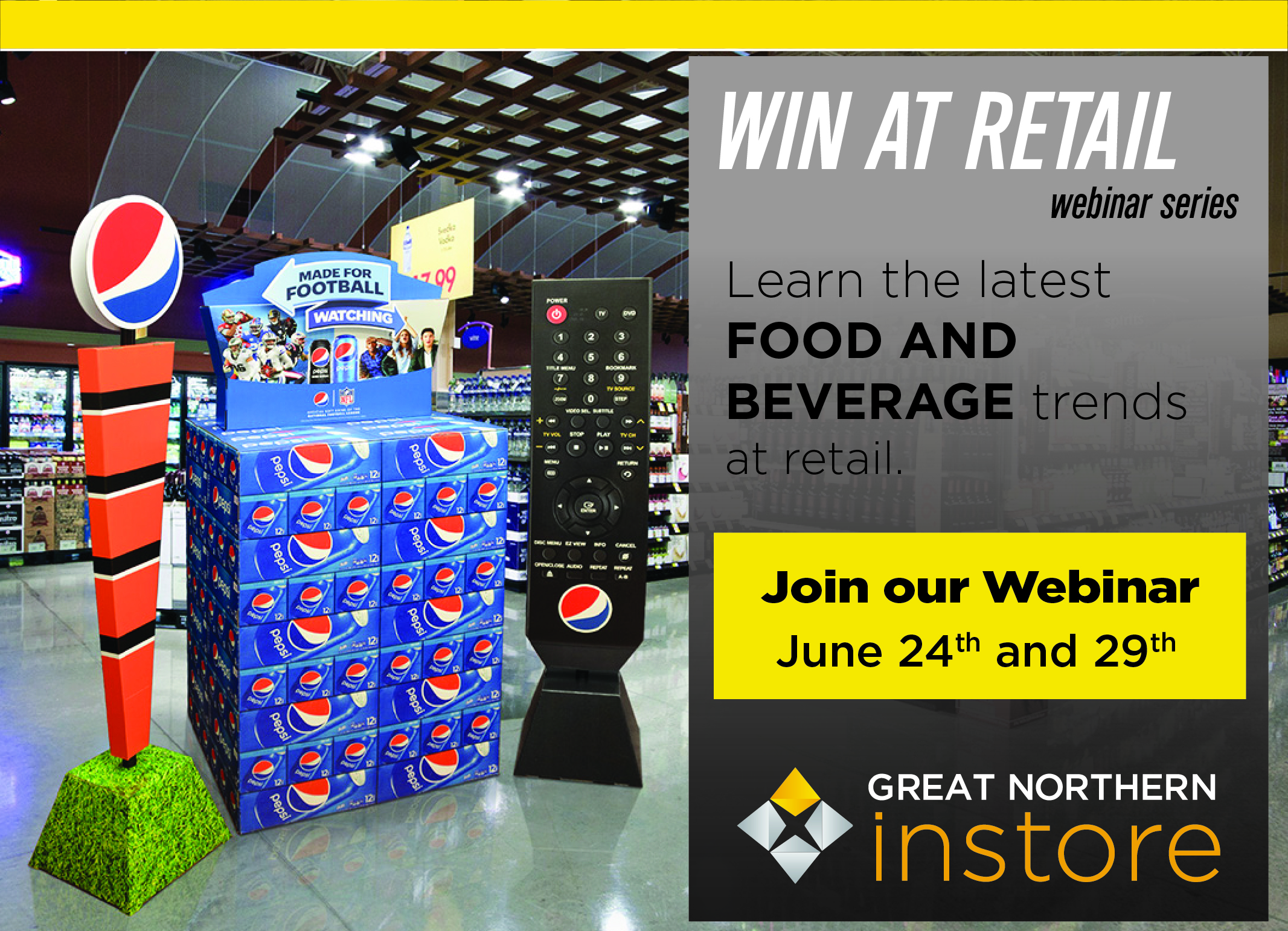 Food and Beverage Trends at Retail
View our insights from Great Northern Instore's store audits focused on the food and beverage industry.
View this Webinar
SUCCESS STORIES:
GATORADE: PERFORM AT PEAK LEVEL
Our speed-to-market process resulted in design to delivery in 3 weeks
The G Series Pro products are selling four times the level of those that are on the shelf
Read More
What Are the Benefits of Grocery Store Displays?
Our retail displays offer a powerful merchandising solution by enabling you to promote and sell products simultaneously.
Key benefits include:



The more visible your products are, the more likely customers will purchase them. Displays give you another vehicle to grab shoppers' attention and draw them to your items. You'll move more products faster and generate additional revenues.
While consumers can purchase just about anything online these days, including their groceries, a 2021 Path to Purchase Institute study shows 86% of grocery shoppers made their last trip to brick-and-mortar grocery stores. Displays can help customers navigate the store, find promotional items and get a closer look at exciting new products.
Who hasn't bought a tasty snack or thirst-quenching beverage item that wasn't on the grocery list because they saw it on display at the store? An eye-catching display fixture allows you to significantly increase these impulse purchases and promote your brand.
More About Our Grocery Store Displays
We expertly craft permanent displays from wood, wire, plastic or metal to the highest quality standards. Select from a broad assortment of styles to reflect your brand and provide the maximum visual appeal. We do not sell stock items — we incorporate your unique grocery store display ideas to create custom-designed permanent display fixtures that meet your specifications. We can handle any project from floor stands to grocery store display shelves. We also produce a full range of temporary corrugate options to bring your promotions to life at the point of purchase. Some examples include:
Endcap displays: These displays are perfect for showcasing products at the end of busy store aisles to make your brand stand out from the competition.
Pallet displays: Portable pallet displays give you a 360-degree turnkey solution you can easily place in high-traffic locations and relocate as needed.
Floorstand displays: Use these

as additional grocery store display shelves

to highlight your brand throughout the store and disrupt the shopper as they walk down the aisles.
Lobby displays: Attention grabbing displays that stock large amounts of product and engage shoppers.
other available display types:
Great Northern Instore offers an expansive list of display types. Each type offers a unique benefit to brands who want to draw customers to their products. Custom retail floor displays showcase hot-off-the-press items, while retail signage directs customers to where your products are merchandised. Other types like end caps can be strategically designed to highlight a seasonal product and enhance your brand awareness.
Contact Us
"Great Northern is adept at interpreting shopper insights so we get better metrics for our in-store promotions."
- Great Northern Instore customer, Toy Manufacturer