We Are Your Complete Convenience Store Display Provider
Convenience store fixtures are a popular way to advertise beverages, snacks and everyday items to in-store shoppers. Great Northern Instore's custom designs C-store displays with your brand in mind to help customers notice and choose your products over the competition's. From temporary floor displays to permanent end cap displays along each aisle, Great Northern Instore can design and manufacture the solution for your products throughout a C-store to ensure maximum reach and increased sales.
Let's Get Started
What Makes Us Different?
Great Insights – Consultative, understanding retail and the shopper
Great Design – Creative, award-winning design
Great Execution – Responsive, reliable experts in printing, fabrication, and assembly Explore Examples of Our Convenience Store Displays
Custom Convenience store display fixtures offer the added benefit of flexibility. With Great Northern Instore, we design your displays to truly reflect your brand. Doing so will enhance your brand awareness, encouraging consumers to notice and connect with your unique product. Branded displays also tend to be more attention-grabbing than stock displays, pushing your products to stand out among the competition.
Contact Great Northern Instore to Create Your Own Displays
Shopper Insights
webinars: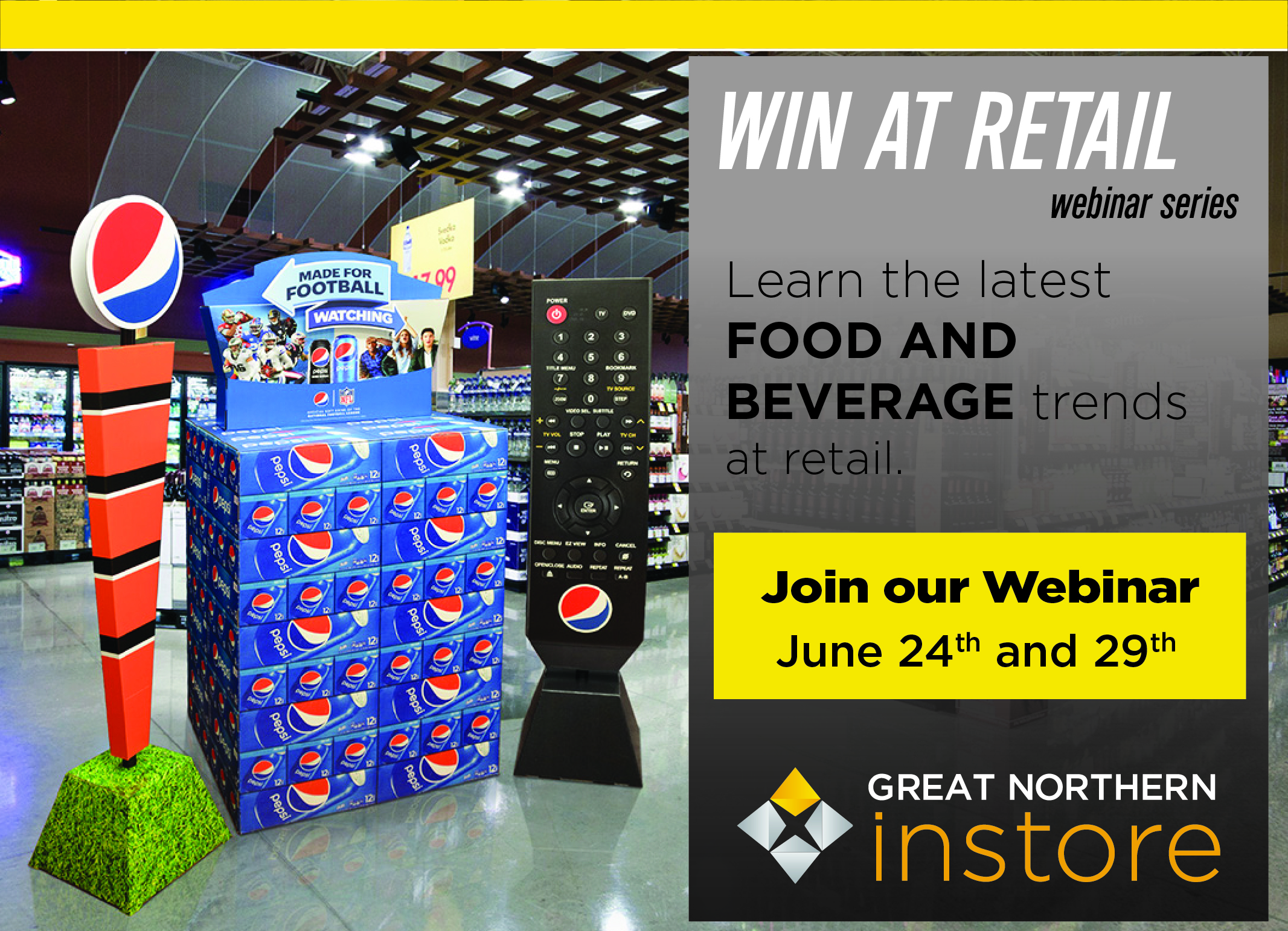 Trends in the Beverage Industry
The Great Northern Instore team has captured beverage activations in retail, and we will bring you the latest insights to help you develop your next instore program.
View this Webinar
SUCCESS STORIES:
PEPSI: SAY IT WITH PEPSI EMOJI
Come up with a way to counter a 2% decrease in carbonated beverage sales.
Leverage social media to create engagement and build momentum for Pepsi's #sayitwithpepsi campaign.
Use consumer insights to drive the strategy.
Read More
Benefits to Using Convenience Store Displays
There are plenty of benefits to using convenience store displays. A strategically located display can shine a spotlight on your product, drawing consumers to pay attention and ultimately make an impulse purchase. By pushing your product to the forefront, you'll help customers overcome decision fatigue and choose the simplest option — the one that's displayed right in front of them. C-store displays located near point of purchase locations can also drive impulse sales as shoppers spontaneously add an attractively packaged product to their shopping basket.



Products to Place in Your Convenience Store Display
Convenience store displays are commonly used to present easy-to-grab, quick consumption items, such as beverages, candy, chips and other packaged snacks. Many companies encourage sales through secondary placement fixtures such as clip strips, corrugated floor displays or metal category solutions. A convenience store candy display is a simple vehicle for promoting impulse purchases of sweet treats at the checkout counter or aisle.
In addition to food and beverage, convenience store displays are commonly used to advertise products such as health and beauty products, consumer electronics and seasonal items.
Where to Place Your Convenience Store Display Fixtures
One of the greatest perks of a convenience store display fixture is its flexibility. Great Northern Instore creates a versatile range of displays that can be placed at virtually any location around a store. Bins can be placed on the floor almost anywhere in a retail location, such as near the entrance, in high-traffic areas outside of popular aisles or by the checkout counters. Convenience store counter displays are typically placed by the checkout counter to drive small last-minute purchases.
End cap displays are often located at the end of each aisle to increase visibility as shoppers browse the convenience store. Spinners and dump bins are a popular convenience store fixture, commonly placed near a point of purchase location to promote a large number of beverages or food in one spot.
other available display types:
Great Northern Instore offers an expansive list of display types. Each type offers a unique benefit to brands who want to draw customers to their products. Custom retail floor displays showcase hot-off-the-press items, while retail signage directs customers to where your products are merchandised. Other types like end caps can be strategically designed to highlight a seasonal product and enhance your brand awareness.
Contact Us
"Great Northern is adept at interpreting shopper insights so we get better metrics for our in-store promotions."
- Great Northern Instore customer, Toy Manufacturer