Incorporate Office Supplies Displays in Your Retail Plan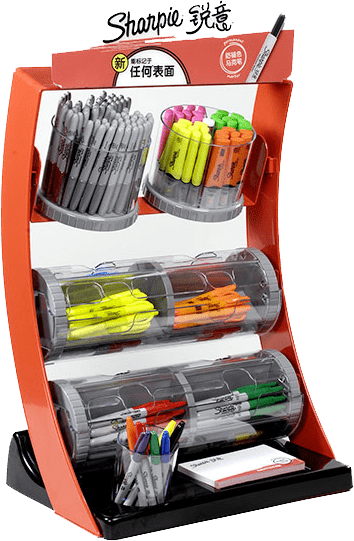 When you decide to work with us, your company will gain access to a large, experienced team of display experts. With over 60 years in the display industry, we will complete every step of your customized office supply display with professionalism and efficiency. Our team includes:
Designers.
Engineers.
Project managers.
Manufacturers.
Distribution managers.
With our experience, we will design and produce your display to your brand specifications and budgetary needs. We strive to ensure that your office supply retail display drives your sales and meets your ROI goals.
Let's Get Started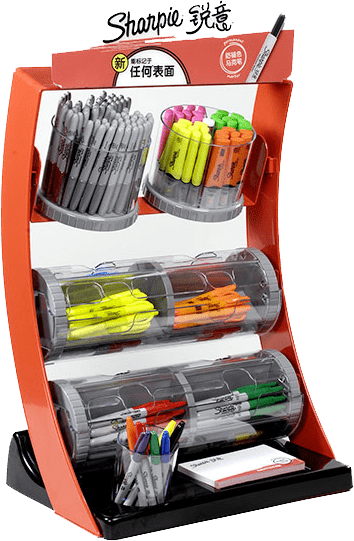 WHAT MAKES US DIFFERENT?
GREAT INSIGHTS – Consultative, understanding retail and the shopper
GREAT DESIGN – Creative, award-winning design
GREAT EXECUTION – Responsive, reliable experts in printing, fabrication, and assembly Office Supply Retail Display Examples
How Our Innovative Displays Showcase Your Office Supplies
Whether you want to display sticky notes, colorful pens or pads of paper, our team of experts understands how to make your variety of consumer products stand out. Our custom office supply retail displays will showcase your branding and products in multiple ways, such as:
Practical applications.
Creative settings.
Office environments.
Because of our versatile designs, we can highlight how each of your office supplies functions in real-life applications by allowing your customers to try your products for themselves. This way, your customers will understand how your office supplies will fit into their lives. Our displays can organize and merchandise your products creatively to attract shopper attention and help them navigate your product assortment for the right solutions.
Get an Office Supply Retail Display for Your Business
Shopper Insights
webinars:
Consumer Electronics Insights
Great Northern Instore highlighted the trends for the consumer electronics category in our webinar.
View this Webinar
SUCCESS STORIES:
3M: COMMAND PLANOGRAM
We surveyed shoppers in 30 Meijer stores about the existing shopping experience
Taking our survey findings we:

Added bold headers for navigation
Defined sections based on Command product color codes with backer paper and blades
Provided inspirational imagery to show additional uses
Read More
Our Expert Displays Can Benefit Your Company
When you choose to use our individualized office supply retail displays, you're implementing more than just an eye-catching design. Our displays are tailored to your brand as well as your customer base, so they can provide several benefits, including:



Potential for increased sales: Because our high-quality product displays are designed with your brand and the shopper in mind, they can lead to an increased number of sales through effective marketing features.
An improved shopping atmosphere: Our office supply retail displays provide a more interactive and exciting shopping experience for your customers. They emphasize the versatility of your office products and show your customers how they can use them in their own lives.
An effective customer-targeting strategy: The eye-catching qualities of our office displays can encourage more impulse purchases of your products.
We Use Top-Notch Quality Control for Durable Displays
To guarantee that our designs meet all of your industry needs, we have exceptionally high standards for quality control. Our manufacturing is completed in-house with our team members, so we don't rely on any outside suppliers. Because of our unique start-to-finish operation, our project managers can supervise every step of the production process.
Regardless of your chosen material — whether you decided to use corrugated cardboard, wood, plastic, wire or metal — we will ensure the finished product is an accurate representation of the design you helped create, so it will look exactly how you imagined.
other available display types:
Great Northern Instore offers an expansive list of display types. Each type offers a unique benefit to brands who want to draw customers to their products. Custom retail floor displays showcase hot-off-the-press items, while retail signage directs customers to where your products are merchandised. Other types like end caps can be strategically designed to highlight a seasonal product and enhance your brand awareness.
Contact Us
"Great Northern is adept at interpreting shopper insights so we get better metrics for our in-store promotions."
- Great Northern Instore customer, Toy Manufacturer