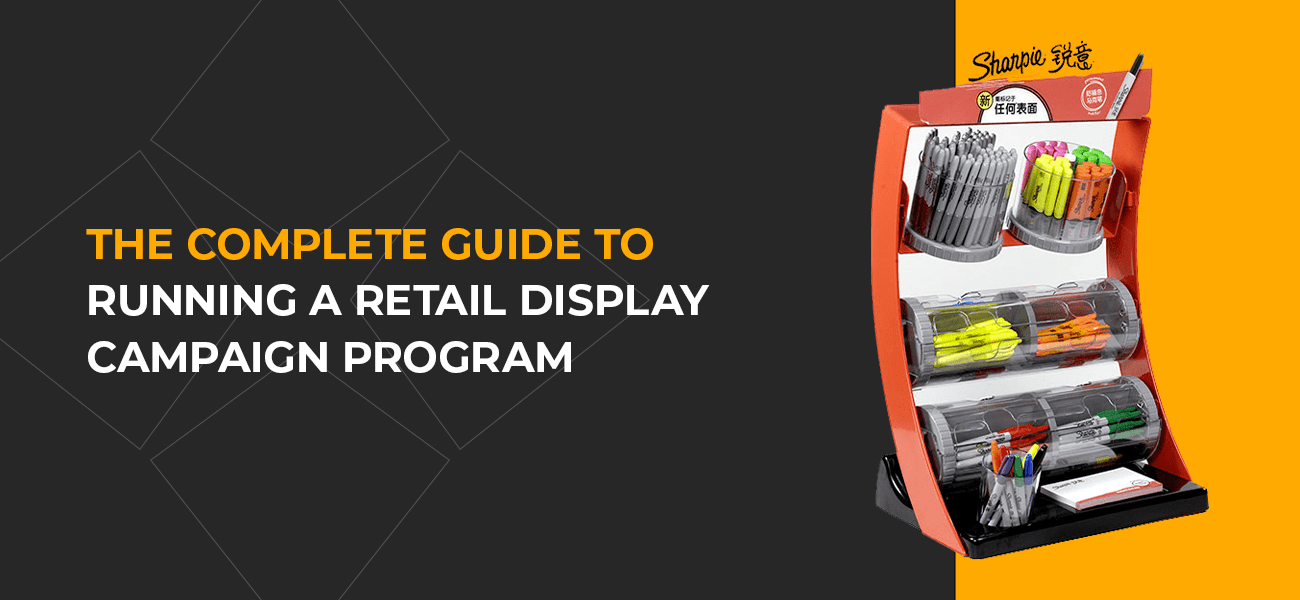 Have you landed a partnership with a retailer to feature your products? Securing retail space is a major milestone in the evolution of your brand. Once you have celebrated, it is time to focus on retail displays. These are the in-store, physical structures you will use to present and promote your brand's offerings in a way that appeals to relevant audiences and encourages them to buy.
If this sounds like a daunting task, do not worry — there are display manufacturers who work with you to launch a retail display campaign program.
What Is a Retail Display Campaign Program?
A retail display campaign program encompasses a display manufacturer's services related to the concept, design, production, pack-out and delivery of point-of-purchase (POP) displays.
POP displays are structures that advertise and market products and special offers to customers who are ready to buy. They are located strategically throughout the store, such as near the checkout counter or at the ends of the aisles.
POP displays accomplish this by helping your products stand out from the rest. With vibrant colors, engaging visuals, captivating copy and sometimes interactive elements, display advertisements elevate the shopper's experience and encourage them to make a purchase.
Types of Retail Displays
Following is a breakdown of the types of POP displays used in retail stores.
Temporary POP Displays
Temporary displays are usually made of corrugated cardboard and can last for three to six months in a busy retail environment.
Temporary displays are an inexpensive way to highlight seasonal items, introduce new products or promote impulse purchases. They can take the form of standalone structures, endcap displays or dump bins.
Semi-Permanent POP Displays
Semi-permanent POP displays, also known as off-shelf or secondary displays, are used for three months up to a year. Manufacturers build semi-permanent displays with sturdier materials like glass, metal, wood and plastic to ensure they hold up to extended customer contact.
Semi-permanent displays can vary in size from small countertop structures to large aisle displays. These displays are great for pricier items because they have a more high-quality look.
Permanent POP Displays
Permanent POP displays feature the same sturdy materials as semi-permanent displays but are typically larger. These displays can last three to five years or more.
Permanent POP displays often resemble a kiosk or a store within a store. (Pop-up shops have become common in large, big-box retailers as a way for smaller brands to get exposure.)
Permanent POP displays are ideal for larger, more established brands. With a solid plan, design, construction and execution, these displays can be well worth the investment.
The Benefits of Working With a Retail Display Provider
Retail display providers specialize in creating engaging display advertising solutions that help your products sell. Partnering with a retail display provider like Great Northern Instore can benefit your brand in multiple ways:
From designing your displays to delivering them to the retailer, Great Northern Instore provides a complete, turnkey solution to in-store product display.
Building meaningful relationships with our clients is of utmost importance, so you can expect to work with a retail display provider that genuinely cares about your brand and its needs.
Because retailers each have their own in-store display guidelines, all of our displays are custom-built to fulfill the requirements of your campaign program.
With over 60 years in the business, we have amassed extensive knowledge of retail. We understand and know how to meet major retailers' display requirements.
Our corrugated cardboard displays are recyclable, so you can feel good about turning them over when you are finished using them.
Great Northern Instore can design temporary, semi-permanent, permanent or interactive POP display ads in a wide variety of structures.
How to Work With a Retail Display Provider
Below are a few important things to expect when you partner with a manufacturer to run a retail display campaign program.
Share the Details of Your Display Program
Once you sign a contract with a retailer, you will receive details on the type and dimensions of the display as well as the retailer's style guide.
Sharing the program details with your display builder is paramount when developing a plan for your displays. Specifics like the sizes of the products and the quantity to be displayed will influence the design of the display. Below is a basic rundown of information your display provider will need:
The retailer you are working with
The type and measurements of the display
The number of displays you need
The number of products to be displayed
How many different products will be displayed
Your budget
It is also helpful to provide other information from the retailer, such as which department your display will be placed in, the retailer's style guide and a planogram of the space.
Introduce Them to Your Brand
The retailer you partner with will determine many display specifications, like the type and size you can use, but the rest of the design features will key off your company's distinct brand.
Knowing your brand's aesthetic preferences helps designers determine which display style to build for you. Share your brand's logo, characters, colors, design brief, style guide and anything else you think is helpful so they can get to work designing the ideal display for your campaign.
Communicate the Specifics of Your Products
Your display provider should have all the details on the products to be displayed, as this information influences the materials used and the overall design of your display. Share with them specifics like the individual weight of each product, the number of products that will fill the display and the descriptions and dimensions of the products.
Have Your Displays Packed, Distributed and Executed In Store
Our services can continue even after we have built your retail displays. We are happy to fill them with your products and package your displays so they are protected during transit and arrive at your retailer on time and in pristine condition.
We can also help you manage inventory levels, shipping fees and delivery deadlines to ensure you meet your in-store sales goals. Partnering with Great Northern Instore affords you a holistic, simplified retail display campaign program.
Let Great Northern Instore Design Your Displays
Our award-winning designers have created retail display solutions for industry-leading clients, and we would love to do the same for you. We build all types and styles of displays for a range of industries, including food, beverage, health and beauty, consumer electronics, home improvement, office supplies and many more.
With our expert insight and retail knowledge, we can help you take your brand to new heights. Contact Great Northern Instore today to start a conversation.