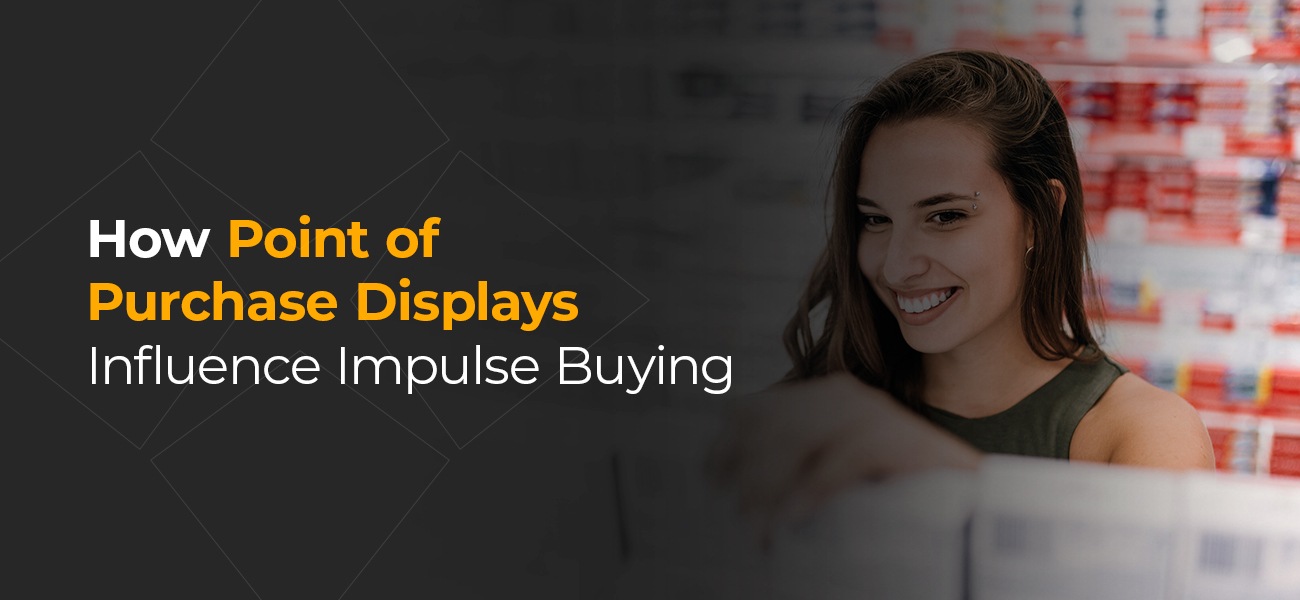 It's an experience many shoppers share — they're in a store, shopping for groceries, clothing or other necessities when something they don't exactly need and weren't planning on purchasing catches their eye. The item might be something new and interesting. It might be something cheap or affordable. Or it might be something that goes well with the other items in the shopper's cart, making it an appealing product even though they didn't plan to purchase it.
Every year, people spend thousands of dollars on impulse buys, which is great for retailers. Even as people's shopping habits changed somewhat due to the COVID-19 pandemic, impulse buys remained common and actually increased in some instances. Whether your shoppers are primarily ordering from your stores online and coming in to pick up their items or are still browsing the aisles as they do their shopping, there are several things you can do to increase the likelihood of an impulse purchase and get your customers to buy more.
Table of Contents:
Popular Impulse Purchases
While anything can be bought on impulse, consumers are more likely to buy certain things impulsively. In some cases, the types of things people buy on impulse can vary along gender lines. One survey found that men tended to spend more than $100 on impulse purchases, while women tended to buy items on impulse that cost less than $100. Knowing the types of things that people buy with little forethought or planning can help you arrange your store and product displays to encourage those quick purchases.
What Percentage of Sales Are Impulse Buys?
The vast majority of the population, between 84% and 86% of shoppers, claim to have made impulse purchases in a physical store or when shopping online. People who are more likely to buy on impulse typically have a few traits in common. Often, they want to look good to other people and are more social and conscious of their status. People who make impulse purchases also tend to love shopping more than those who always shop from a list.
An impulse shopper is likely to buy something because they worry they will regret not making the purchase later. In some cases, they buy because they think it is helping them save money. A person's mood also influences whether or not they're more likely to make impulse purchases. Shoppers in a happy or good mood might be more likely to buy on impulse. The same is true for people who are having a rough day or aren't in the best moods.
Impulse Items at Checkout
Although the decision to buy on impulse can take place in multiple places in a store, for many customers, the checkout aisle tends to be where the impulse buying action is concentrated. The area near the cash registers is a prime impulse buying spot for a few reasons.
Customers tend to have to wait when they are getting ready to finalize their purchase. There might be other customers in front of them, or they might need to stand there patiently as the cashier rings up their purchase. A shopper's eyes are likely to travel, looking for something to keep them occupied as they wait. A savvy retailer can put items in the customer's line of vision to encourage additional purchases or remind them of items they didn't know they needed.
Some items that sell well when put near the checkout area or point of purchase zone include:
Snacks: Who hasn't gotten a bit peckish while shopping? Grocery stores, big box stores and even clothing retailers and home improvement centers have realized that sometimes shoppers want a snack. Candy bars, cookies and single-serving bags of chips or other salty snacks are all good impulse buy items for the checkout lane. At cafes and delis, impulse items can include pre-wrapped cookies that a person adds to their drink or lunch order or a pack of mints or gum they can use after finishing their coffee.
Clothing: When doing a wardrobe refresh, shoppers might forget about the small details, such as new underwear or socks. Arranging small clothing items, such as packs of socks, tights or underwear, near the cash registers of a store can gently remind people of the basics and encourage them to add to their purchases.  Accessories also make a good impulse item to help the shopper complete their look.
Household items: The checkout area is also a prime spot to arrange a display of useful household items. Someone doing their weekly grocery shopping might realize they also need batteries, for example. A person who's planning a party might remember they need a bottle opener or corkscrew at the last minute. In a store specializing in home goods, the checkout area can be the ideal spot for a display showing off smaller utensils or textiles such as kitchen towels and potholders.
Beauty products: If you've been to a cosmetics store, you've likely seen point of purchase displays in action. At some stores, you can't get to the cash register without walking through an aisle of trial or sample-sized beauty products. Those products can complement what someone is planning on buying, such as a brush or sponge set to go along with eye shadow or pressed powder. In some instances, the products are fun or interesting, items that make someone want to try them out as they wind their way toward checkout.
Toys: Small toys placed at a child's eye level are also common point-of-purchase impulse buys. A child shopping with their parent is likely to see a toy, grab it and ask their parent to buy it. Depending on how the shopping trip is going, the parent might agree to buy the toy for their kid.
How to Position Point of Purchase Displays to Encourage Impulse Buying
You know what your customers are likely to buy on impulse. How can you create appealing product displays that get them to pick up those items and add them to their cart, basket or the pile of products they already have on the counter? There are several ways you can set up point of purchase displays to encourage an impulse buy:
1. On the Checkout Counter
Imagine a customer has made it up to the cash register and they are taking items out of their cart and putting them on the counter in front of the cashier. That's when they see it — a display of scented candles to the right of the cash register. They are sample candles, so the customer, who's feeling a little bored as they wait for the sales associate to ring up their items, starts sniffing them. One of the scents is really appealing, and the price is right, so they add it to their pile of purchases.
A counter display is an ideal way to grab people's attention just before they finalize their purchase. You can display items on the checkout counter that you want to sell more of or that are seasonal, such as holiday scented candles or seasonal snacks and candies. A counter display is also ideal for those last-minute items that people might forget about until they get into the line, such as batteries, small personal care items or office products.
2. In the Checkout Aisle
At many stores, the path to the cash register has become a sort of gauntlet, with shoppers passing through an additional aisle or two of products as they wind their way towards the cashier. Permanent displays in the checkout aisle give you the chance to entice customers with more items they didn't know they needed.
Depending on how many shoppers are in the store at any given time and how long a person has to wait to check out, they might find themselves staring at a particular display. The longer they see an item, the more likely it is that they will pick it up and buy it.
3. At Customer Pickup Points
During the COVID-19 pandemic, many customers switched to a hybrid shopping model. Instead of going into a store, wandering the aisles to get the items they needed, then going to pay at the cash register, some shoppers choose to buy online and schedule a pickup in the store. The customer would pay online, and a store employee would walk the aisles, gathering the items in the customer's order.
An opportunity to encourage impulse buys remains when customers come into the store to get their order. Counter displays or aisle displays near the pickup area can inspire people to add on to their order or make an additional purchase as they pick up their items.
Other Ways to Encourage Consumer Impulse Buying
The more customers spend in the store, the better off your business can be. Beyond making sure that popular impulse items are within easy reach of your shoppers, there are a few other things you can do to get them to buy more.
1. Focus on Urgency
One-day-only sales or other limited-time offers are excellent ways to capitalize on loss aversion. People often buy on impulse because they're worried they will miss out on a good deal. Signage that reads "Today only!" or "Buy one, get one free!" spur people to buy. Limited edition items that are unique or seasonal also drives urgency.
If there are items you are trying to sell because they have been on the shelves too long or they've been discontinued, you can encourage people to buy with signs that read "Once they're gone, they're gone!" or "Get 'em while they're here!"
2. Limit Choice
A person shouldn't think too long or hard when making an impulse purchase. They should see the item, grab it and buy it. To encourage that "spontaneous inclination," it's important not to give shoppers too many choices for products. Limit their options to one or two of any particular item.
Someone who's spending a lot of time in the checkout aisle trying to decide between unicorn printed socks or panda bear printed socks is more likely to end up not buying something than someone who spots the unicorn socks or the mint lip balm and thinks, "Ah, perfect."
3. Get Interactive
Interactive displays can help increase customer conversion rates and can lead to impulse buys. Think of a toy store that has a table set up with several toys at the front. People passing by the store might see the toys on display. If they have kids with them, they might want to come in and try out the toys. After playing with the toys for a bit, the kids might want them. If the toys are priced right, a parent might decide to go ahead with the purchase since they saw how much fun their child was having with the toy.
Interactive displays are also effective for increasing a shopper's engagement with a product, leading to a purchase. For example, an interactive display with a touchscreen that explains the benefits of an item or shows a shopper how to use it can help them see the value of buying it.
4. Put Displays Near Popular Items
The checkout area isn't the only spot where you can set up point of purchase displays to encourage impulse buys. It also makes sense to display potential impulse items near the products they complement. For example, you can set up a display of ice cube trays or decorative magnets near refrigerators. Few people will buy a new refrigerator without planning, but they are likely to impulse buy a new magnet to dress up the fridge or an ice cube tray for the freezer.
Some potential product and impulse buy pairings include:
An end cap display of batteries at the end of a toy aisle.
A rack filled with cookies by the milk refrigerators.
A floor display of trial-size products near the luggage aisle.
5. Install Speed Bumps
Your customers might wander a specific path through the store. While you want them to make their way to the checkout area eventually, you also want them to stop along the way and explore the items you're selling. One way to get customers to slow down and take their time is to put speed bumps in their paths. Speed bumps can be freestanding displays of items that entice customers, such as scented candles or soaps, new food products or seasonal home or fashion accessories.
6. Anticipate Needs
One way to encourage impulse buys is to think about what your customers are likely to need. A family doing back-to-school clothes shopping might also need basic school supplies, such as pens and crayons. Someone shopping to update their wardrobe might get thirsty and want some water or another beverage. Having those items available for sale, even if they don't necessarily blend with what your company typically sells, can increase customer spend at your store and customer loyalty.
How to Encourage Impulse Buying With Point of Purchase Displays From Great Northern Instore
If you want to boost impulse buys at your store, Great Northern Instore can help. We manufacture and design point of purchase displays for multiple industries. We have award-winning designers that have created solutions for industry leading clients.  Whether you need a permanent display or a temporary setup, we work with you to turn your vision into a reality and help you put your retail strategy into action. Contact us today to get the conversation started.