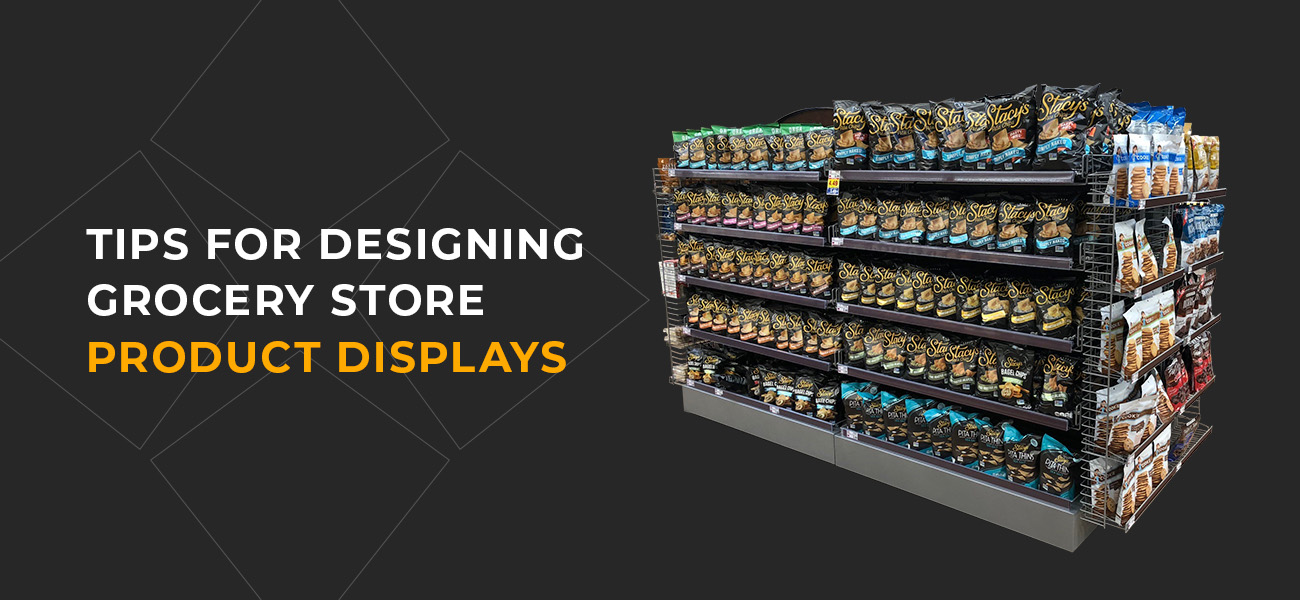 Retail is exceptionally competitive. Consumers have more shopping choices than ever before — hundreds of competitors offer the products they want. Visual merchandising and product displays attract customers to items, encouraging them to enter your store and make a purchase.
When designing grocery store displays, you must consider every element — from products to lighting and store layout. So how do you get people to engage? We have a few tips to help you get started.
Setting up Your Store
The first step in designing food displays is setting them up correctly. Layout, color, shape, lighting, signage and smell can enhance displays, making them more effective. Here are a few things to remember.
Layout
The store layout needs to take shoppers on a journey that will lead them to the products they need. Place essential items such as bread and milk at the back, forcing shoppers to pass by more products and make impulse purchases near the cash register. Be deliberate with your shelving choices. If items are too high, people will get annoyed trying to reach products on tall shelves. Overly narrow shelves won't offer enough space for all your products. Add impulse buys next to essential items or at the point of purchase.
Signage is an integral part of this. If shoppers cannot quickly find what they're looking for, they will leave your store without buying anything. Use signs to guide them through your store.
Tip: Use the store entrance and lobby. Retail is all about first impressions. The windows and store entrance will entice shoppers. You can also display products that attract people's attention and welcome them to the shopping experience with lobby displays.
Ambiance
Creating a warm shop environment will encourage shoppers to stay in your stores. The smells of baked goods can draw in passersby. Lighting can tastefully highlight products. A welcoming environment that helps the shopper engage and experience products will set the right tone.
Regularly offer samples, especially if they are new. Shoppers are more willing to buy products they know. Allowing them to taste new or slower-selling products can increase sales. Make it possible for people to touch products. Appealing to a consumer's senses can complement product displays and drive sales.
Designing Grocery Displays
Here are nine tips for designing displays for a grocery store.
1. Use Color
Instagram's popularity has shown how visual consumers are. The love of attractive imagery with complementary colors, fun contrasts and harmonies bleeds over into every aspect of our lives. Fresh produce is a significant draw for any grocery store, especially with eating patterns changing as younger generations gain more purchasing power. Many shoppers are eating healthier food as diets change.
Make your food and beverage displays engaging by alternating green vegetables with brightly colored produce such as red bell peppers, beets or carrots. Use black backgrounds in bakery displays to make baked goods stand out with a more visual pop.
Staggered shelves can show off more products to consumers, while props can elicit an emotional response. For example, adding a full picnic basket near the deli food can make shoppers remember fun picnics they have been on. Ensure you follow proper food display conventions when setting up these colorful displays. Keep the shelves fully stocked, remove damaged goods and make it easy for people to reach items.
2. Price, Price, Price
Make sure pricing is easily visible. Many budget-conscious shoppers will turn away from a product if they can't tell how much it costs. This tip is even more relevant if you have set up a unique temporary display.
3. Make It Convenient
Get creative, but make it convenient! Setting up new displays is an excellent way to keep people engaged and interested as they shop. Remember to ensure these new displays are out of the way of paths and other products. If you have added new fixtures, make sure they don't hamper shoppers from reaching for products or seeing essential information.
4. Lean Into the Holidays
Relevancy is key to connecting with shoppers.  Seasonal displays tell relevant stories that connect your products to the season. You can encourage shoppers to spend a bit more with attractive displays. Decorating windows, shelves and displays will put people in the holiday spirit.
Special occasions are also a great time to cross-sell items by putting related products together. Combine all the essentials for a Halloween party in one display to remind people about their needs. You can also add products people might not consider for the event, like wet wipes around Easter chocolate displays to offer parents an easy way to clean up messy kids.
5. Use Shelves Wisely
Where you place a product can send subtle, subconscious signals to shoppers about its quality or price. The term "top shelf" refers to high-end or expensive products because that is where retailers traditionally place them. Use the middle of your shelf for the most competitive, fast-moving products. These sit at eye level and make it easier for people to see them. It is a good idea to put generic products on your lower shelves that people will search for regardless of price or promotion.
6. Provide Extra Information
Give shoppers more than they expect from their shopping. Add recipe cards or meal ideas to displays. They can inspire shoppers and make deciding what to eat easier. It is also a simple way to upsell other products. Maybe you ordered extra pasta this month. Place pasta recipes in key spots throughout the store — in the butcher or next to the cheese. Shoppers will subconsciously crave pasta dishes with the right call to action.
7. Leverage Empty Space
There is a lot of space in a grocery store — above shelves, on shelves and on the sides. You can use this empty space to add displays and extra information to attract shoppers. Think about adding customer testimonials, detailed information or a picture of how to use a product.
You must keep these areas clean and clear. Shoppers get overwhelmed with too much information and clutter, turning them away from purchasing. Add bullet points to designs to keep data easy to understand and highlight key benefits of products.
8. Make Displays Interactive
Use apps, touchscreens and videos to make shopping interactive. We live in a digital world. Apps and smartphones can make shopping experiences more personal. Add a QR code to product displays. It can lead to your app or a website with extra information that can be useful to shoppers.
9. Shape It Up
Use different shapes in your displays. Squares and rectangles are a staple in many stores. Look for ways to add circles, triangles and other shapes to displays. Round bins and triangular boards can break up the monotony of your store layout. Holidays can make this easier. Heart-shaped signs for Valentine's Day and Christmas tree product displays can add extra punch.
Design Grocery Displays With Great Northern Instore
Grocery store displays play a crucial role in guiding consumers to products. Great Northern Instore is an award-winning retail display company. Our team provides turnkey solutions for retail displays, from design to manufacturing and distribution. Let our team help you create engaging grocery store displays today!